Zweimal im Monat werden die Abonnenten des Services Xbox Game Pass mit einem Update der Spielebibliothek versorgt. Diese Bewegungen sind in aller Regel sehr umfangreich, so dass man gut und gerne mal den Überblick verlieren kann. Genau deswegen informieren euch immer zeitnah rund um die Hauptbewegungen über die Änderungen.
Autor: Alex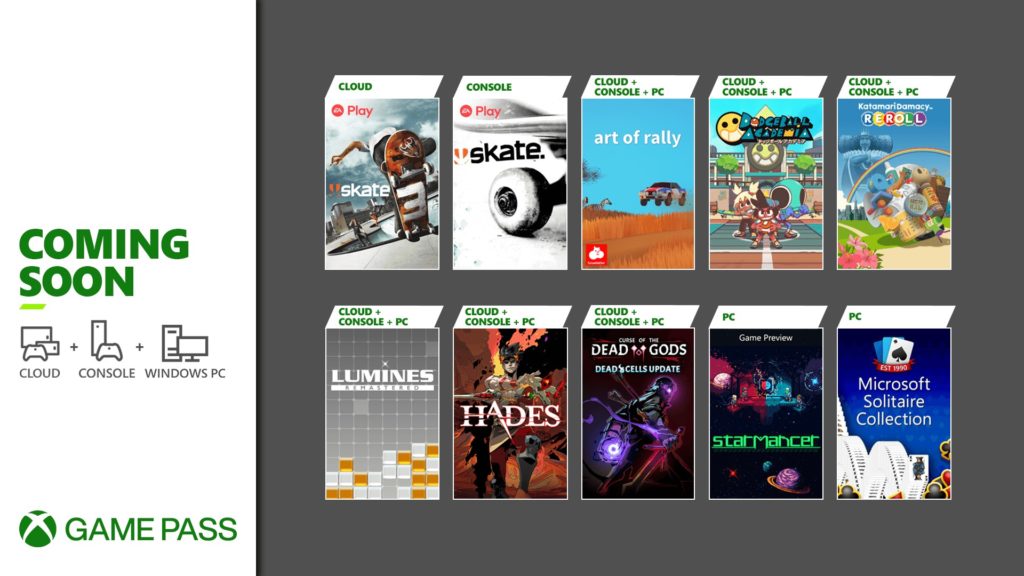 Das hat sich getan:
Der Xbox Game Pass gilt als wohl der größte Abo-Dienst rund um Gaming. Die titel können hier kostenlos herunterladen werden und gespielt werden. Anders als bei Playstations-Servicekonkurrent "Playstation Now" verzichten die Redmonder aber auf eine Streamingoption.
Nachfolgend möchten wir euch über die Veränderungen innerhalb des Game Passes informieren. Das beinhaltet Zu- und Abgänge und ggfs. sonstige erwähnenswerte Infos. Sofern es Abgrenzungen zu den Abo-Versionen des Game Passes gibt, werden diese in Klammerzusätzen beschrieben.
Zugänge:
Bereits dabei:
Curse of the Dead Gods (Cloud, Konsole, PC)
Dodgeball Academia (Cloud, Konsole, PC)
Katamari Damacy REROLL (Cloud, Konsole, PC)
Lumines Remastered (Cloud, Konsole, PC)
Skate (Konsole)
Skate 3 (Cloud)
Starmancer (PC-Game Preview)
Zukünftig dabei:
10.08.2021: Dirt 4 (Konsole)
10.08.2021: Dirt Rally (Konsole)
10.08.2021: Dirt Rally 2.0 (Konsole)
10.08.2021: F1 2020 (Konsole)
10.08.2021: Grid (Konsole)
12.08.2021: Art of Rally (Cloud, Konsole, PC)
13.08.2021: Hades (Cloud, Konsole, PC)
17.08.2021: Microsoft Solitaire Collection: Premium Edition (PC)
Die Zugänge am 10.08.2021 haben einen Hintergrund, den wir euch natürlich nicht vorenthalten wollen. Anfang des Jahres sicherte sich Electronic Arts die Dienste von Codemasters, die ihrerseits für ihre Rennspiele berühmt sind. Eine solche Auswahl dieser wird nun eben den Weg in den EA-Abo-Service "EA Play" finden. Auf diesen haben alle Abonnenten des Game Pass ebenfalls Zugriff.
Abgänge:
08.08.2021: Grand Theft Auto V (Cloud, Konsole)
15.08.2021: Ape Out (PC)
15.08.2021: Crossing Souls (PC)
15.08.2021: Darksiders Genesis (Cloud, Konsole, PC)
15.08.2021: Don´t Starve (Cloud, Konsole, PC)
15.08.2021: Final Fantasy VII (Konsole, PC)
15.08.2021: Train Sim World 2020 (Cloud, Konsole, PC)
Keep on Gaming