Abonnenten des Streamingservices von Playstation können sich jeden Monat über einige neue Titel im Line-Up freuen. Bisher haben wir ausschließlich über unsere Facebook-Seite über diese Neuerungen informiert. Ab sofort wird es diesen Service jeden Monat hier geben. Doch nicht nur das. Auch die Veränderungen der Online-Bezahlservices PS Plus und Xbox Games with Gold sowie Veränderungen innerhalb des Game Pass werden hier ihren Platz finden.
Autor: Alex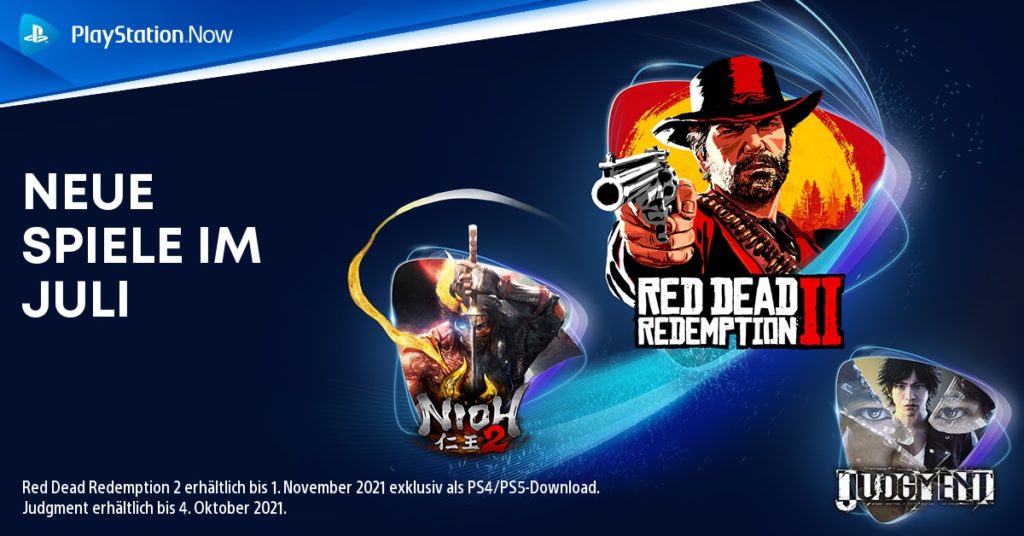 Nun wenden wir uns aber den Bewegungen in Playstation Now zu:
Neu dabei:
– Red Dead Redemption 2,
– Nioh 2,
– Moving Out,
– God of War,
– Judgment,
– Olympische Spiele Tokyo 2020
– Nascar Heat 5
Nicht mehr dabei:
– Marvel´s Avengers
– The Crew 2
– NASCAR Heat 3
– Street Fighter V
Einiges an Bewegung und gerade mit "Red Dead Redemption" hat sich hier ein wirklicher Langzeittitel in die Bibliothek eingefunden. Über "Judment" hatten wir zuletzt in unserem Rückblick auf die jüngste Ausgabe des Playstation Newsformats "State of Play" berichtet.
Verratet uns gerne, ob ihr Abonnent einer der oben genannten Services seid und von welchen (auch anderen) Services ihr gerne regelmäßig mehr hören möchtet!
Keep on Gaming