Wie auch schon bei unserem Angebot zu den Bewegungen innerhalb des Xbox Game Pass, möchten wir euch in diesem Beitrag die Neuerungen im Angebot von Sony Playstation-Service "Playstation Plus" informieren. Wir möchten euch in einem zusammengefassten Beitrag die Bewegungen über einen längeren Zeitraum transparent gestalten. Dazu werden wir ein fortlaufendes Inhaltsverzeichnis anlegen und euch immer monatlich aufsteigend über die neuesten Bewegungen informieren. Wir hoffen euch mit dieser Form von Artikel eine bessere Übersichtlichkeit über einen Service zu geben, der regelmäßig großen inhaltlichen Veränderungen ausgesetzt ist.
Autor: Alex
Inhaltsverzeichnis:
September 2022
Spielekatalog (Abo: Extra oder Premium):
DEATHLOOP
Assassin's Creed® Origins –> unserer Review
Watch Dogs®2 –> unsere Review
DRAGON BALL XENOVERSE 2
Chicory: A Colorful Tale –> unsere Review
Monster Energy Supercross – The Official Videogame
Klassikerkatalog (Abo: Premium):
Syphon Filter 2
The Sly Trilogy
Sly Cooper: Thieves in Time
Bentley's Hackpack
Toy Story 3
Kingdom of Paradise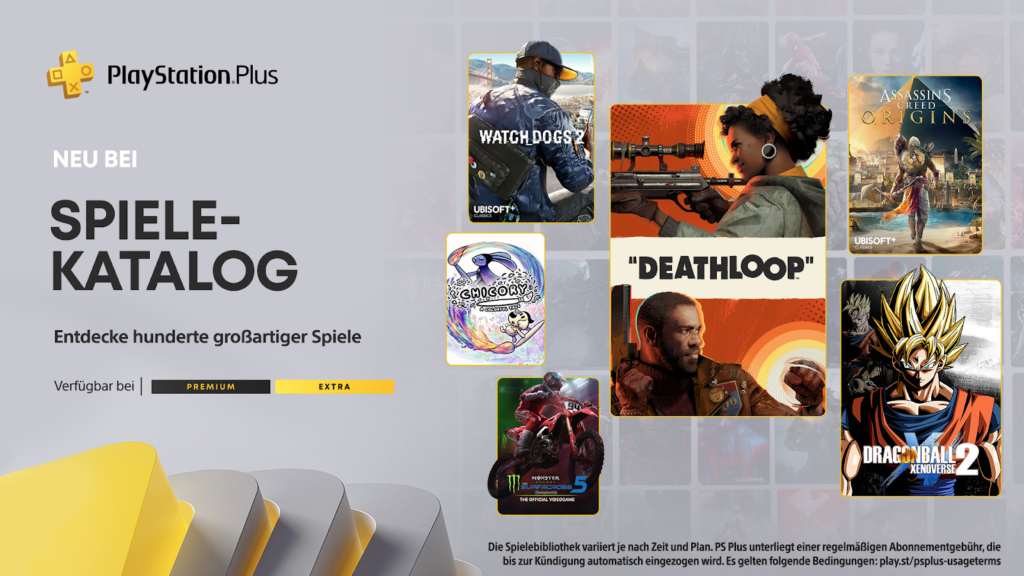 August 2022
Spielekatalog (Abo: Extra oder Premium):
Tom Clancy's Ghost Recon Wildlands | PS4
Dead by Daylight | PS4, PS5
Yakuza 0 | PS4
Yakuza Kiwami | PS4
Yakuza Kiwami 2 | PS4
Bugsnax | PS4, PS5
Metro Exodus | PS4, PS5
Trials of Mana | PS4
UNO | PS4
Monopoly Madness | PS4
Monopoly Plus | PS4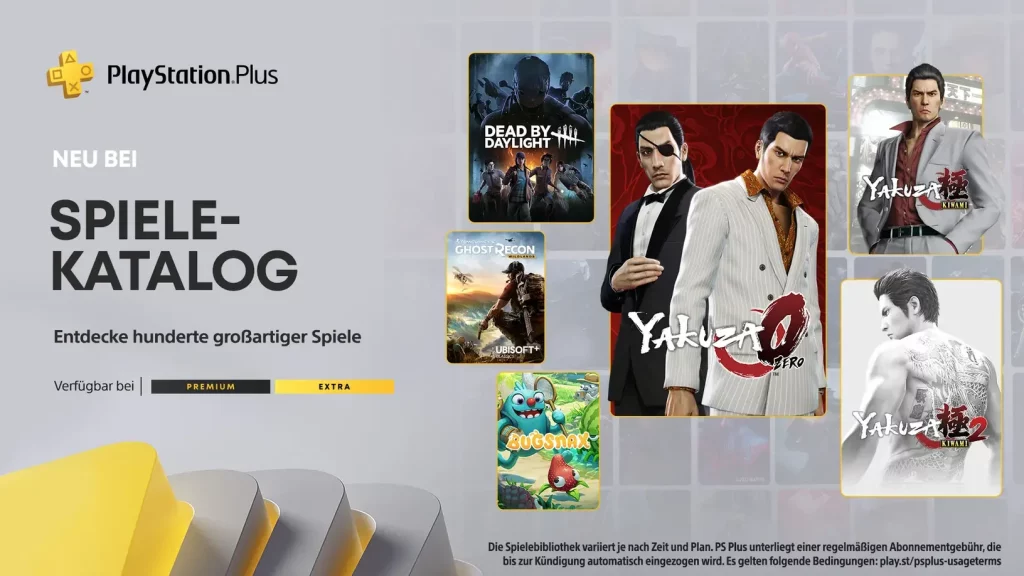 Juli 2022 ***ACHTUNG NEU***
Mit der Zusammenlegung der beiden Services "PS Plus" und "PS Now" ergibt sich auch eine massive Änderung für die Abo-Bibliothek vom ehemaligen "PS Now"-Service. Je nach gewähltem Abo (Extra oder Premium) habt ihr als Abonnenten ab sofort Zugriff auf einen großen Spielekatalog aktueller Titel bzw. einen Spielekatalog von ausgewählten Klassikern. Somit gibt es ab sofort an dieser Stelle immer die Neuzugänge für diese beiden Kataloge mit entsprechendem Hinweis, welchen Service ihr dafür gebucht haben müsst! Folgende Titel sind ab 19.07.2022 verfügbar:
Spielekatalog (Abo: Extra oder Premium):
Stray | PS4, PS5
Final Fantasy VII Remake Intergrade | PS5
Assassin's Creed IV: Black Flag | PS4
Assassin's Creed Unity | PS4
Assassin's Creed: Freedom Cry | PS4
Assassin's Creed: The Ezio Collection | PS4
Saints Row IV: Re-Elected | PS4
Saints Row: Gat out of Hell | PS4
MARVEL´s Avengers | PS4, PS5 **Review: HIER**
Spirit of the North: Enhanced Edition | PS5
Ice Age: Scrats Nussiges Abenteuer | PS4
Jumanji: Das Videospiel | PS4
Die Helfer auf vier Pfoten legen los! | PS4
ReadySet Heroes | PS4
Klassiker-Katalog (Abo: Premium):
No Heroes Allowed! | PS4, PS5
LocoRoco Midnight Carnival | PS4, PS5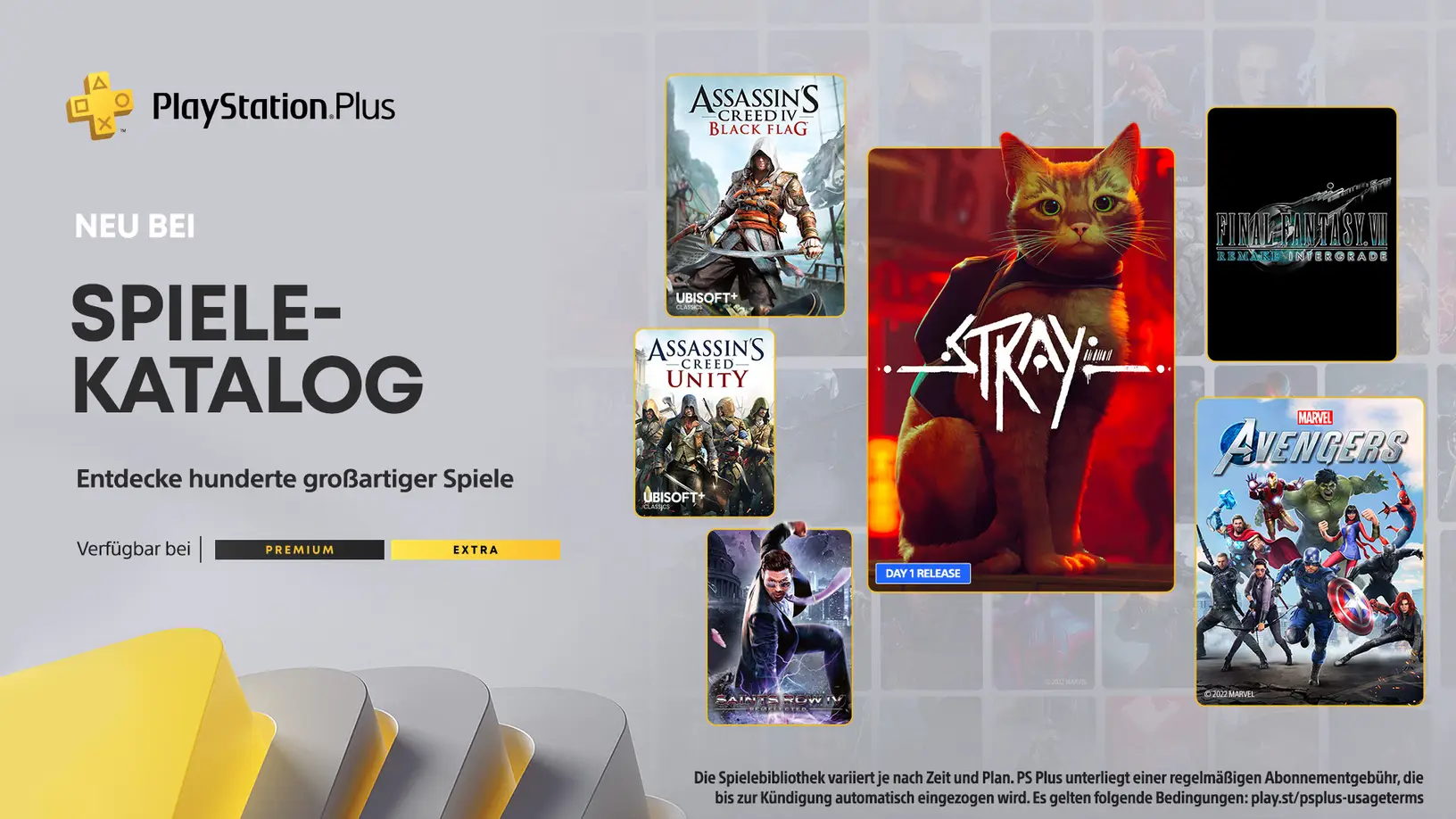 Mai 2022
Neu:
Naruto Shippuden: Ultimate Ninja Storm 4
Soulcalibur VI (<– Link zu unserer Review!!!)
Blasphemous
April 2022
Neu:
Outer Wilds
WRC 10 FIA World Rally Championship
Journey to the Savage Planet
Werewolf The Apocalypse – Earthblood
März 2022
Neu:
Shadow Warrior 3
Crysis Remastered
Relicta
Chicken Police – Paint it Red!
Februar 2022
Neu:
Grand Theft Auto: Vice City – The Definitive Edition
Death Squared
Little Big Workshop
Through the Darkest of Times
Januar 2022
Neu:
Mortal Kombat 11
Final Fantasy XII: The Zodiac Age
Fury Unleashed
Unturned
Super Time Force Ultra
Kerbal Space Programm
Dezember 2021
Neu:
GTA III – Definitive Edition
Final Fantasy X/X-2 HD Remaster
Sptlings
John Wick Hex
Nicht mehr dabei:
Metal Gear Solid HD Collection
BroForce
Stranded Deep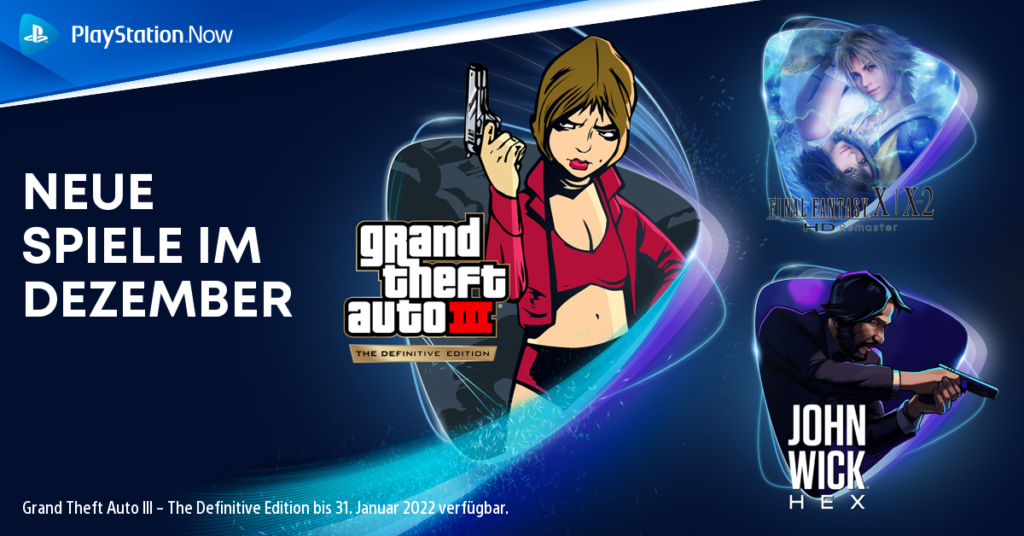 Keep on Gaming und Viel Spaß beim Zocken