Am 22. Februar wird die zweite Generation von Playstations-VR-Hardware offiziell erscheinen. Schon jetzt ist bekannt, dass die Hardware mit mindestens 30 Titeln erscheinen wird. Das dass ein ganz schönes Brett ist, aber oftmals "nur" Portierungen sind, wollen wir uns jetzt einmal ein wenig genauer ansehen!
Autor: Alex
Zunächst einmal ohne große Umschweife! Das sind die Line-Up-Titel:
After the Fall (Vertigo Games)
Altair Breaker (Thirdverse)
Before Your Eyes (Skybound Interactive)
Cities VR (Fast Travel Games)
Cosmonious High (Owlchemy)
Creed: Rise to Glory: Undisputed Edition (Survios, Veröffentlichungszeitraum)
The Dark Pictures: Switchback (Supermassive, Veröffentlichungszeitraum)
Demeo (Resolution Games)
Dyschronia: Chronos Alternate  (MyDearest Inc., Perp Games)
Fantavision 202X ( Cosmo Machia, Inc.)
Gran Turismo 7 (über kostenloses Update für PS5-Version von GT7)
Horizon Call of the Mountain (Firesprite, Guerrilla)
Job Simulator (Owlchemy)
Jurassic World Aftermath (Coatsink)
Kayak VR: Mirage
Kizuna AI – Touch the Beat! (Gemdrops, Inc.)
The Last Clockwinder (Pontoco, Cyan Worlds)
The Light Brigade (Funktronic Labs, Kauf beinhaltet PS VR- und PS VR2-Version)
Moss 1 & 2 Remaster (Polyarc)
NFL Pro Era (StatusPro, Inc.)
No Man's Sky (Hello Games, Veröffentlichungszeitraum)
Pavlov VR (Vankrupt)
Pistol Whip (Cloudhead)
Puzzling Places (Realities.io, kostenloses Upgrade)
Resident Evil Village (Capcom, über kostenloses Update für PS5-Version von RE Village)
Rez Infinite (Enhance)
Song in the Smoke (17 Bit)              
STAR WARS: Tales from the Galaxy's Edge (ILMxLab)
Synth Riders (Kluge Interactive, )
The Tale of Onogoro  (Amata K.K)
Tentacular (Devolver)
Tetris Effect (Enhance)
The Walking Dead: Saints & Sinners – Chapter 2: Retribution (Skydance, Veröffentlichungszeitraum)
Vacation Simulator (Owlchemy)
What the Bat (Triband)
Zenith: The Last City (Ramen VR, kostenloses Upgrade)
Ihr habt in der Liste schon die ein oder anderen Hinweise entdeckt, die diesen Umfang etwas entzerren. Zum einen verbirgt sich dort ganz oft das Wort "Upgrade" und ja, bei einigen Titeln handelt es sich um solche, die ihr bereits mit der aktuell gängigen PS-VR-Hardware spielen könnt. Andere Titel gibt es bereits in Konsolenform (z.B. "Gran Turismo"). Bei anderen steht wiederum "Veröffentlichungszeitraum" dabei. Das bedeutet, dass diese Titel nicht unmittelbar zum Release im Februar zur Verfügung stehen, sondern binnen des ersten Monats (spätestens zum 31.03.2023) nachgeschoben werden.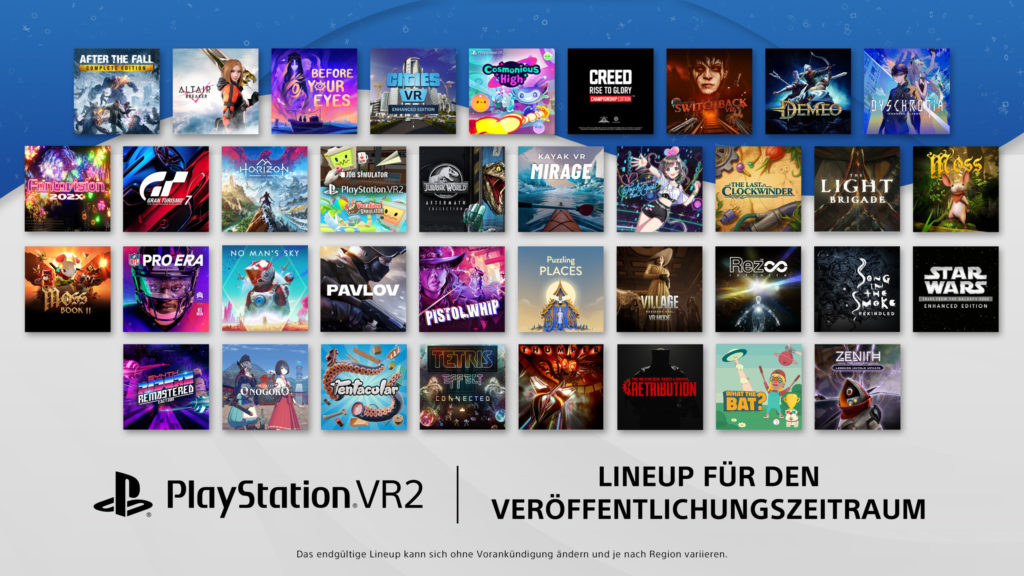 Keep on Gaming